It can be quite difficult to insert the sample tubing into the peristaltic pump tubes. This is particularly so for pump tubing with a small ID. To facilitate this
connection, Glass Expansion supplies Contour flared-end pump tubing. The flared end of this pump tubing allows the larger capillary tubing to be inserted
into the smaller pump tubing.
All tubes made from Fluran HC F-5500-A or equivalent. Supplied in packs of 6 tubes.
No. of Tubes Per Pack: 6
Physical Properties: Thermoplastic, Fluorpolymerelastomer based material with plasticizer

Special Properties:
• Special tubing for concentrated acids and corrosive solvents

Advantages:
• High chemical resistance
• Wide temperature range
• Low gas permeability

Limitations:
• Limited service life
ID mm: 0.51 - 2.79 mm
Wall mm (ID 0.51, 0.64, 1.14, 1.30, 1.65, 1.85, 2.06 mm): 0.90 mm
Wall mm (ID 0.76, 0.89, 1.02, 1.42, 1.52, 2.29, 2.54, 2.79 mm): 0.85 mm
Overall length: 175mm (127mm between tags)
Variants: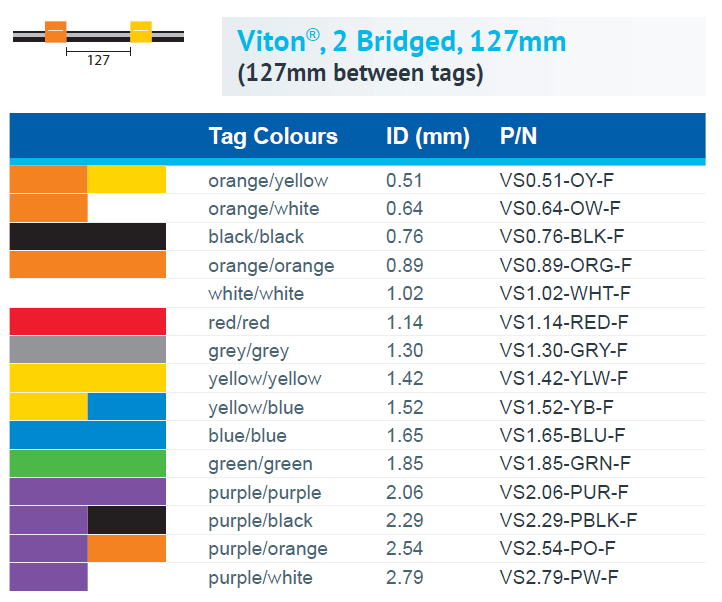 OEM:
VS0.51-OY-F: –
VS0.64-OW-F: –
VS0. 76-BLK-F: –
VS0.89-ORG-F: –
VS1.02-WHT-F: –
VS1.14-RED-F: –
VS1.30-GRY-F: –
VS1.42-YLW-F: –
VS1.52-YB-F: –
VS1.65-BLU-F: –
VS1.85-GRN-F: –
VS2.06-PUR-F: –
VS2.29-PBLK-F: –
VS2.54-PO-F: –
VS2.79-PW-F: –