It can be quite difficult to insert the sample tubing into the peristaltic pump tubes. This is particularly so for pump tubing with a small ID. To facilitate this
connection, Glass Expansion supplies Contour flared-end pump tubing. The flared end of this pump tubing allows the larger capillary tubing to be inserted
into the smaller pump tubing.
All tubes made from Tygon 4040 or equivalent. Supplied in packs of 12 tubes.
No. of Tubes Per Pack: 6
Physical Properties: Thermoplastic, PVC based material with plasticizer

Special Properties:
• Special tubing for hydrocarbons, petroleum products and distillates

Advantages:
• Specially formulated to transport hydrocarbons, petroleum products and
distillates.
• Ideal for gasoline, kerosene, heating oils, cutting liquids and coolants
based on glycols.
• Low gas permeability.

Limitations:
• Not recommended for strong acids and alkalies, foodstuffs, beverages
and medicines.
• Potential leaching of plasticizers.
ID mm: 0.38 - 1.30 mm
Wall mm (ID 0.38 mm): 0.91 mm
Wall mm (ID range 0.76 - 1.30 mm): 0.86 mm
Overall length: 430mm (82mm between tags)
Variants: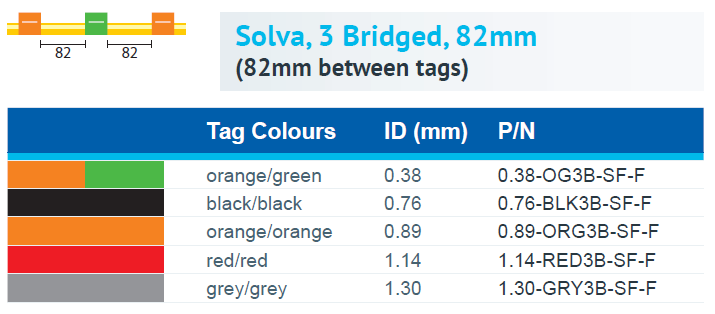 OEM:
0.38-OG3B-SF-F: –
0.76-BLK3B-SF-F: –
0.89-ORG3B-SF-F: –
1.14-RED3B-SF-F: –
1.30-GRY3B-SF-F: –